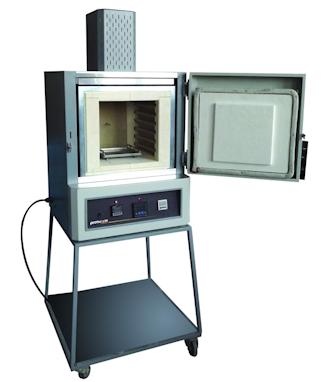 Asphalt furnaces are specially designed for quantitative determination of Binder Content in hot- mix asphalt.

Furnace is capable of 600ºC. Any emissions during tests are eliminated with the usage of a special thermal after burner placed on top of the furnace. The reverse suction system enhances removal of flammable fumes during operation.

Furnace is under control of the software, including the operation and heat up of the after burner and lock up of furnace lid at 150ºC.

All elements are protected against corrosion by quartz tubing providing a longer service life. Standard brick design on the outer skirts of the door and the furnace opening provide protection from possible unwanted damages during loading.

Galvanized coating covered epoxy painted structure, providing longer life time and aesthetics.






System Features
Special locking sideways opening door
Weight loss recording system
Customized controller option
High-quality fiber material
High level temperature uniformity
Bottom protection
Temperature and weight data observation
Data logger and export tool
Short heating times

Electrical protection
Working Temperatures of up to 600°C
Dual skin housing for low external temperatures and high temperature stability
System operation with solid-state-relays
High quality heating elements ensuring free heat radiation and a long service life
Easy replacement of heating elements
Intuitive controller user interface

Specifications
| | | | | | | | |
| --- | --- | --- | --- | --- | --- | --- | --- |
| Model | Operating Temperature (°C) | Inner Dimensions (HxWxD) (cm) | Outer Dimensions (HxWxD) (cm) | Power (kW) | Weight Capacity (Grams) | Phase | Supply Voltage (V) |
| PASF 110/30 | 540 | 30x30x30 | 115x60x60 | 3.6 | 5000 | 1 | 220 |
Optional Features
Over-temperature limiter for thermal protection

Product Photos