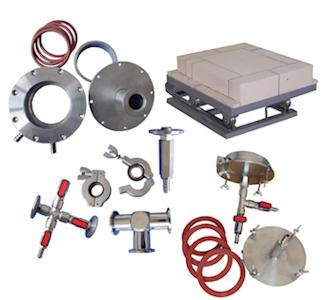 Protherm Furnaces provide a wide range of accessories for furnaces in order to fulfill the extra needs of customer.

Furnaces are equipped with the clients' choice of accessories, and even possible customized ones according to the furnace.

All furnace accessories provided by Protherm Furnaces are tested and fitted perfectly to the furnace for the clients operation.

Besides mechanical components, electrical components such as vacuum gauges, mass flow meters, scales, load cells and various other pieces of equipment is also provided.






Accessory Features
Rugged and durable design
Worldwide trusted brand
High-quality material

Designed and manufactured in house
Tests completed according to quality standards
Electrical protection

| | |
| --- | --- |
| Accessory | Application |
| End Plugs | Stabilizing the temperature inside the tube |
| Suction Fan | For removal of fumes |
| Crucible Tray | Variable sizes for different crucibles |
| Gas Feed In System | Gas feed in system for experiments |
| Gas Blend System | In order to create a certain gas mixture in the furnace environment |
| Gas Flange | For working with different gases inside of tubes |
| Vacuum Flange | Creating different vacuum values inside of the tube |
| Cylinder Plate | Sample placing |
| Clamp & O-Rings | Connecting components together |
| Connective Components | Enabling different inputs and outputs to the system |
| Vacuum Gauge | Vacuum value measuring |
| Mass Flow Controller | Precise flow rate and mass measurements |
| Rotameter | Available for multiple flow rates |
| Data Logger & Software | Output of data |
Product Photos