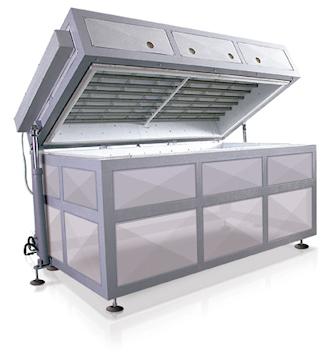 PGLS series are within our standard products and used for glass fusion and pate de Verre furnaces. Custom made glass furnaces are made upon customer request.

Glass Fusion Furnaces are all top heated, to achieve maximum temperature homogeneity. Observation ports are available for the user to observe the stage of fusion and act accordingly.

Standard HLF series furnaces cover a range up to 1000°C/1832°F, and a volume of 500 liters.

All models have a stand frame on wheels for easy moving. Gas struts are installed to enable easy lid opening.

Custom made higher volumes include hydraulic lift mechanisms for easier usage.






System Features
Upwards opening door
Door safety switch
Customized controller option
High-quality fiber material
High level temperature uniformity
Electrical protection
Top heating

High quality heating elements and ceiling construction ensuring a long service life
Dual skin housing for low external temperatures and high inner temperature stability
Intuitive controller user interface
System operation with solid-state-relays

Specifications
| | | | | | | |
| --- | --- | --- | --- | --- | --- | --- |
| Model | Maximum Temperature (°C) | Continuous Operating Temperature (°C) | Volume (L) | Inner Dimensions (HxWxD) (cm) | Power (kW) | Phase |
| PGLS01 | 1000 | 950 | 100 | 40x50x50 | 8.0 | 1 |
| PGLS02 | 1000 | 950 | 140 | 70x40x50 | 10.0 | 3 |
| PGLS03 | 1000 | 950 | 180 | 90x40x50 | 10.0 | 3 |
| PGLS04 | 1000 | 950 | 260 | 110x40x60 | 12.0 | 3 |
| PGLS05 | 1000 | 950 | 340 | 120x40x70 | 15.0 | 3 |
| PGLS06 | 1000 | 950 | 420 | 150x40x70 | 18.0 | 3 |
| PGLS07 | 1000 | 950 | 480 | 200x40x60 | 18.0 | 3 |
| PGLS08 | 1000 | 950 | 560 | 200x40x70 | 22.0 | 3 |
Optional Features
Over-temperature limiter for thermal protection
Option of hydraulic opening door
Data logger with the software

RS422/485 communication
Bottom, lid or back side heating
Observation port

Product Photos