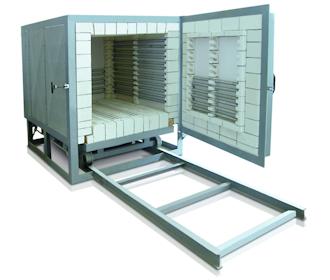 Available with brick and fiber insulation elements, with a wide variety of options, HLF series is the optimum choice for general heat treatment procedures.

Used by many professionals and craftsman for many years, standard HLF series furnaces cover a range up to 1200°C, and have a volume of 1000 liters. However we do provide a much larger range for our customers on request with customized models.

Galvanized coating covered epoxy painted structure, providing longer life time and aesthetics.






System Features
Vertical or sideways opening door
Door safety switch
Customized controller option
High-quality fiber material
High level temperature uniformity
Custom made carriage track fitted for the installation site
Door with hand fitted brick-on-brick seal

High quality heating elements and ceiling construction ensuring a long service life
Dual skin housing for low external temperatures and high temperature stability
Easy maintenance and service procedures
Multiple and extra heating sides added according to customer needs

Specifications
| | | | | | | | |
| --- | --- | --- | --- | --- | --- | --- | --- |
| Model | Maximum Temperature (°C) | Continuous Operating Temperature (°C) | Volume (L) | Inner Dimensions (HxWxD) (cm) | Outer Dimensions (HxWxD) (cm) | Power (kW) | Phase |
| HLF 50 | 1200 | 1150 | 50 | 40x35x35 | 67x84x74 | 3.6 | 1 |
| HLF 100 | 1200 | 1150 | 100 | 50x40x50 | 110x94x93 | 8.0 | 3 |
| HLF 140 | 1200 | 1150 | 140 | 70x40x50 | 135x95x95 | 12.0 | 3 |
| HLF 200 | 1200 | 1150 | 200 | 80x45x55 | 150x103x95 | 12.0 | 3 |
| HLF 300 | 1200 | 1150 | 300 | 75x50x80 | 130x103x110 | 18.0 | 3 |
| HLF 400 | 1200 | 1150 | 400 | 73x75x75 | 135x132x120 | 21.0 | 3 |
| HLF 500 | 1200 | 1150 | 500 | 80x80x80 | 138x154x125 | 24.0 | 3 |
| HLF 1000 | 1200 | 1150 | 1000 | 85x90x125 | 140x167x170 | 33.0 | 3 |
Optional Features
Over-temperature limiter for thermal protection
Adjustable air intake opening in the furnace door
Exhaust air opening in the of the furnace roof
Option of hydraulic opening door
Data logger with the software

RS422/485 communication
Bottom, lid or back side heating
Protective Gas Connection
Extra load wagon
Protective gas system and connection

Product Photos