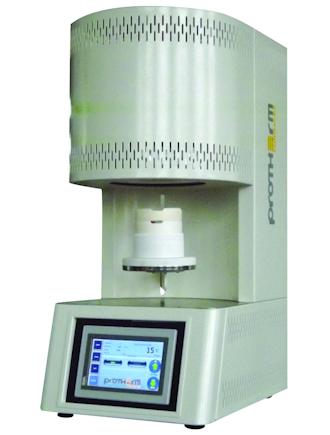 ELV MOS series is designed for bottom loading operations and for quick charging and discharging procedures in laboratories.

Available with brick and fiber insulation elements, with a wide variety of options, ELV MOS series is designed especially for dental applications.

Standard ELV MOS series furnaces cover a range of temperatures up to 1600°C, all of which have dual skin housing for low external temperatures and high inner temperature stability uniformity.

Multi-layers of sample could be fitted into the furnace, enabling the sintering of multiple zirconia loads.

Gas feed-in with this series is a standard and various applications of gas controlled atmospheres is made possible.

Seven inch touch screen with instructions in requested language enables user friendly programming and configuration of the furnace.

Dental series is equipped with a galvanized coating covered epoxy painted structure, providing longer life time and aesthetics.






System Features
Touchscreen controller
High-quality fiber material
Exceptional temperature uniformity
Table top design
Fast firing availability
High quality heating elements ensuring a long service life
Short heating times
High level temperature uniformity

Electrical protection
System operation with solid-state-relays
Working Temperatures of up to 1800°C
Dedicated programs for applications
Multi tray optionality
"Run-on mode" enabling the furnace to continue automatically without user interaction after a power cut-off

Specifications
| | | | | | | |
| --- | --- | --- | --- | --- | --- | --- |
| Model | Maximum Temperature (°C) | Continuous Operating Temperature (°C) | Inner Volume (liters) | Inner Volume (Dø x height) (mm) | Voltage (V) | Phase |
| ELV MoS 160/05 | 1600 | 1550 | 0.5 | 9 x 55 | 220 | 1 |
| ELV MoS 160/1 | 1600 | 1550 | 1.0 | 10 x 100 | 220 | 1 |
Optional Features
Over-temperature limiter for thermal protection
Exhaust air opening in the of the furnace roof
Data logger with the software

RS422/485 communication
Protective Gas System and Connection

Product Photos