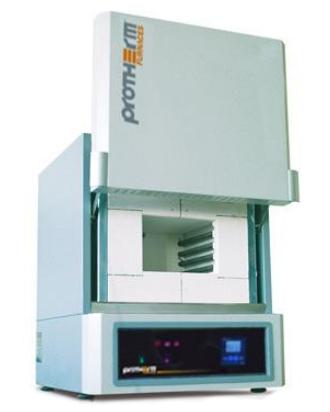 Dental PLF series have been used as trusted professional chamber furnaces for many years in dental laboratories. Available with brick and fiber insulation elements, with a wide variety of options, these models can be optimally used for your general procedures.

Standard Dental PLF series furnaces cover a range of temperatures up to 1100°C, all of which have front loading for easy operation and double skin construction to maintain a cooler outer case.

Important advantage of the model is that element change is very easy and economic.

The durability of the heating elements in periodic use, make these furnaces to all-rounders in the laboratory.

Typical uses for the product covers a range of dental laboratory applications.






System Features
Vertical counter balanced door
Standard door safety switch
High-quality fiber material
High level temperature uniformity
Bottom protection, alumina plates on the floor
Short heating times
Brick door skirts and the furnace openings
Galvanized coating covered epoxy paint structure
Customized controller option

High quality heating elements ensuring a long service life
System operation with solid-state-relays
Electrical protection
Working Temperatures of up to 1100°C
Dual skin housing for low external temperatures and high inner temperature stability
Easy replacement of heating elements
Intuitive controller user interface

Specifications
| | | | | | | | |
| --- | --- | --- | --- | --- | --- | --- | --- |
| Model | Maximum Temperature (°C) | Continuous Operating Temperature (°C) | Volume (liters) | Inside Dimensions (HxWxD) (cm) | Outside Dimensions (HxWxD) (cm) | Power (kW) | Phase |
| PLF 110/6 | 1100 | 1050 | 6.3 | 15x21x20 | 65x55x58 | 2.0 | 1 |
| PLF 110/8 | 1100 | 1050 | 7.5 | 18x21x20 | 65x55x58 | 2.0 | 1 |
| PLF 110/10 | 1100 | 1050 | 10.0 | 20x20x25 | 72x56x64 | 2.7 | 1 |
| PLF 110/15 | 1100 | 1050 | 15.0 | 23x22x30 | 72x56x64 | 3.6 | 1 |
| PLF 110/30 | 1100 | 1050 | 28.0 | 28x28x38 | 79x55x69 | 3.6 | 1 |
| PLF 110/45 | 1100 | 1050 | 45.0 | 30x30x50 | 82x66x81 | 6.0 | 3 |
Optional Features
Over-temperature limiter for thermal protection
Adjustable air intake opening in the furnace door
Exhaust air opening on the furnace roof
Observation hole enabling the operator observe the load during the operation
Data logger with the software

RS422/485 communication
Cooling Fan for faster cooling processes
Jet Fan for faster exhaust of gases
Movable bottom
Quartz element protection for heating elements
Protective gas system and connection

Product Photos