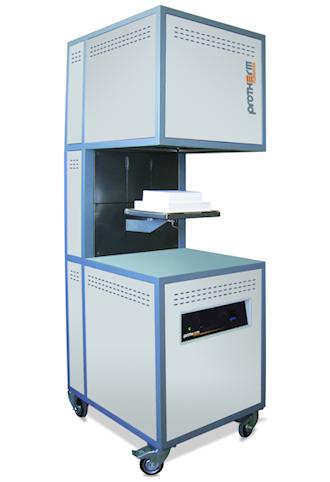 ELV series are designed for bottom loading operations and for quick charging and discharging procedures in laboratories.

Available with brick and fiber insulation elements, with a wide variety of options, ELV series is used for glaze fritting, glass melting and applications requiring quick removal of products from the furnace.

Standard ELV series furnaces cover a range from 1100°C to 1800°C, all of which have dual skin housing for low external temperatures and high inner temperature stability uniformity.

Multi-layers of products could be fitted into the furnace, enabling the experimentation of several samples at a time.

Gas feed-in with this series is a standard and various applications of gas controlled atmospheres is made possible.

This series equip a galvanized coating covered epoxy painted structure, providing a longer life time and aesthetics.






System Features
Customized controller option
High-quality fiber material
Exceptional temperature uniformity
Table top or self-standing design
Hand fitted brick-on-brick seal
High level temperature uniformity
Short heating times

High quality heating elements ensuring a long service life
Electrical protection
Precise, electric spindle drive with push button operation
Working Temperatures of up to 1800°C
System operation with solid-state-relays
Intuitive controller user interface

Specifications
| | | | | | | | |
| --- | --- | --- | --- | --- | --- | --- | --- |
| Model | Maximum Temperature (°C) | Continuous Operating Temperature (°C) | Inner Volume (liters) | Inner Dimensions (HxWxD) (cm) | External Dimensions (HxWxD) (cm) | Power (kW) | Phase |
| ELV 110/8 | 1100°C | 1050 | 7.5 | 20x18x21 | 122x63x81 | 2.0 | 1 |
| ELV 140/8 | 1400°C | 1350 | 7.4 | 18x18x23 | 122x63x81 | 4.9 | 3 |
| ELV 160/8 | 1600°C | 1550 | 8.0 | 20x20x20 | 190x62x77 | 5.2 | 3 |
| ELV 170/8 | 1700°C | 1650 | 8.0 | 20x20x20 | 190x62x77 | 7.2 | 3 |
| ELV 180/8 | 1800°C | 1750 | 8.0 | 20x20x20 | 190x62x77 | 7.8 | 3 |
Optional Features
Over-temperature limiter for thermal protection
Exhaust air opening in the of the furnace roof
Adjustable air inlet through the floor

Data logger with the software
RS422/485 communication
Protective Gas System and Connection

Product Photos